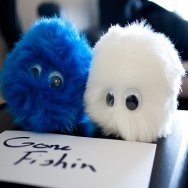 Case Example: "He won't commit to me."
[setfeatureimage img='2012/06/2371505523_73dd46a9391.jpg'][setmeta name="title"]Gay Couples with Commitment Conflicts «Case Example»[/setmeta][setmeta name="description"]What happens when a gay couple, with conflicts around commitment, come into couple counselling.[/setmeta]These couples come to me because Partner A wants Partner B to commit officially to the relationship but Partner B sees no reasons to change the relationship's arrangement.
These relationships show difficulty with change.  It's not uncommon for a couple to have shared anxieties, but manifesting their anxieties in different wayts.  For example, both Partner A and Partner B may have issues with relationship attachment (a fear that the partner will leave/abandon the relationship) .  Partner A's response to his anxiety might be to make Partner B commit (eg a wedding). Partner B's response to his anxiety might be to ensure the relationship doesn't change (why mess with something that works).
Creating and testing hypotheses around common anxieties can help both partners notice their own anxieties within their partner, and joining to help one-another can bring about understanding and deeper intimacy – plus both partners coming up with a new solution that fits both of their needs can be helpful for a longer-term relationship.
Contact Dean today…