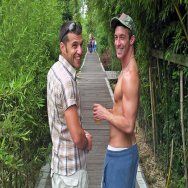 Introducing Dean Richardson Registered Member MBACP(Accred).
[setmeta name="title"]Gay Couples' Counsellor: Dean Richardson MBACP(Accred)[/setmeta][setmeta name="description"]Dean Richardson is a couple counsellor specialising in LGBT relationships, with private practices in Portsmouth & Southsea (UK) and World-Wide via Skype video conference.[/setmeta][setfeatureimage img='2012/01/Dean-Richardson-Professional-Wide.jpg']Most couple counsellors will work with gay & lesbian couples…
                  …Dean Richardson is a Gay Couple Counsellor.
                                     Spot the difference?!
Dean Richardson is CEO of GayCoupleCounselling.com, started to provide a therapeutic place for gay couples seeking relationship therapy for their particular form of relationships.
A little bit about Dean Richardson as a therapist.
Gay couples have chosen to work with Dean for a number of specific reasons, some of which include:
Dean is a fully qualified & experienced couple relationship counsellor.
Dean is an accredited member of the British Association for Counselling & Psychotherapy (note that in the UK therapists are not licensed to practice, so anyone can set themselves up as a therapist.  The BACP's Accreditation scheme is a method to verify a counsellor/psychotherapist's substantial training and experience).
Dean's expertise as a couple counsellor includes the psychology & pathology of LGBT couples.
Feedback from past lesbian couple clients included that they chose to work with Dean, as a gay male couple counsellor, as he was a 'safe' therapist and non-threatening.
Feedback from past gay male couples included that they found identifying with Dean be a comforting/containing thought – allowing them to discuss their relationship in a supportive environment during tough therapeutic-process times.
Other couples (and LGBT individuals) have sought out Dean Richardson specifically by reputation and because of his speciality and knowledge of the psychological behaviour of gay & lesbian couple relationships.
Dean's therapeutic core model is a combination of systemic/psychodynamic approach to couple counselling, adding helpful methods from CBTCognitive Behaviour Therapy (CBT) is a form of talking therapy that is focussed on helping a person change the ways they think, how they feel, and their behaviour, in a stepped process. CBT has a reputation for being a manualised treatment (patient is diagnosed and a matching treatment prescribed) which is how computer-based CBT treatments have been created.
http://en.wikipedia.org/wiki/Cognitive_behavioral_therapy (Cognitive Behavioural Therapy) and humanistic models.  This assists a couple in feeling supported, encouraged & inspired to discuss issues as they struggle & achieve discovering solutions to their relationship problems.