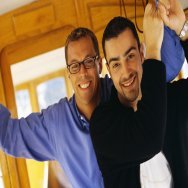 Welcome to GayCoupleCounselling.com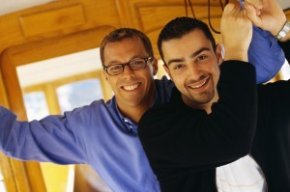 Counselling for gay couples – GayCoupleCounselling.com is a British-based, world-wide therapy service exclusively for gay and lesbian couples, and couples of mixed-sexuality/mixed-gender.
Whether you're in a civil-partnership, marriage (as far as your country recognises LGBT marriage), intimate relationships, polyamorous relationship or  platonic friendship and you're having relationship problems, we're the people to speak with to help you to get your relationship back on tracks.
Why "Gay" Couple Counselling?
As gay people, we live our lives via a similar but distinctly different rules to heterosexual people.
We work with heterosexual people, most of us have heterosexual friends, but our lives are mostly not in a heterosexual society:
We have to go through a coming-out process for our intimate relationships to be recognised
We don't necessarily have monogamy at the centre of our intimate relationships.
We can't always fill in those forms where it asks us if we're married or not (only two choices?) – or when society doesn't recognise our particular living arrangements.
Our attentions are not necessarily turned to buy that car advertised by a nearly-naked woman making suggestions towards the male-customer; we're gay people living in a mostly-heteronormative society.
As gay men and women, we live our lives with a similar-but-distinctly-different set of rules to our intimate relationships from those of heterosexual people.  When then, when our intimate relationships are in difficulties, would we want to engage in a standard couple therapy service that gives us the impression that 'man-marries-wife', or that we suspect have reworded phrases such as "your wife" to "your partner"?
Gay men and lesbian woman have a distinct right to happy relationships – and we are just as much at risk of relationship-conflicts as are any other couple. GayCoupleCounselling.com provides a friendly, helpful and professional service to help and support gay relationships in conflict.
Trust your partnership with our knowledge, understanding and positive-help towards gay couple relationships.
Read more…
Pages: 1 2 3 4 next page »
---