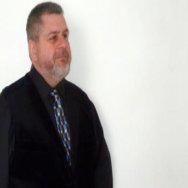 As a couple counsellor who focuses on working with gay and lesbian couples, one of my marketing approaches is to use Google AdWords.
When using AdWords, it helps enormously to have an understanding of Unique Selling Points (USP) … and, perhaps, a sense of humour.  One has to stand out from all the other "I'm Yet Another Counsellor" adverts in order be chosen by a potential client.
Today, I had one of my new adverts rejected on Google AdWords.  Here it is:-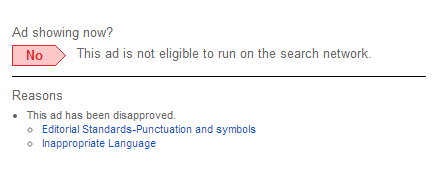 The text is: "Troubled Gay Male Couples – counselling for LGBT relationships that suck… but not in a good way."
Now, I thought that was pretty clever: "suck" meaning not only 'the relationship is not going very well' but also to tacitly refer to the act of fellatio.
From a position of having to be exceptionally careful about what they display on their search engine network, I do understand that this advert might be a little risky for Google – particularly if it offended anyone enough to become litigious.
But… come on!
For fairness, I've included the reasons why Google rejected this advert, shown on the right hand side: "Punctuation" and "Inappropriate Language".
Oh well 😉
What do you think? Leave a comment below.e